Provide your customers with protection for the video on their hard drives! Stop worrying that your video has been damaged or lost with this VERY Affordable Service from InVid Tech.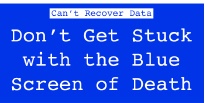 Ever have your computer crash or get the blue screen of death where your computer won't turn on? Nothing but aggravation, stress and exorbitant amounts of money to only be told, "Sorry, there is nothing that we can do." Those days can be over!
Utilize the Data Recovery Rescue Service Plan* from InVid Tech. This plan offers a very affordable option that provides peace of mind for you and your customers. You don't need to fear with this protection for video surveillance on your hard drives.
There are a few different ways you can utilize the plan depending on hard drive installation. Enter your info, and we will work with you to customize a plan for you to take full advantage of this service through InVid Tech.
---
3 Data Recovery Options

Fill out the form and we will get you more info.
Existing & Installed Units in the Field
Have machines you want the data to be protected in case of an emergency?

New Hard Drives
Want Data Recovery on New Hard Drives you purchase?

New models that now automatically come with Data Recovery when you purchase the unit.
Want to buy your DVRs & NVRs with Data Recovery already included in the machine?